Our winter garden system, constructed with a wood or aluminum frame, is a glass room that is custom-built to fit the size and technical requirements of your balcony or terrace. It can be installed on various types of existing base materials. With our weather-resistant, sliding-glass doors, your winter garden will also have an outdoor entrance that protects it from rain, snow, and wind. Harsh weather conditions won't stop you from sitting on your terrace or balcony when you have a winter garden! Since the winter garden keeps the wind out, and connects to the outer wall of your home, it helps to keep that wall warm and reduces heating costs.
You can order a winter garden from us, as well as the terrace that it's built on. Ordering all the work from the same company saves you time and money.
Services provided:
Simple glass rooms
Glass partitions and sliding door systems
The terrace sliding glass door system
Winter garden and greenhouse construction
Terrace construction
The aluminum and wood frames of the winter garden are built according to European standards. Customers can choose the surface, color, and thickness of the frames.
The walls of the winter garden can be designed to open partially, or fully, and a lock system can be installed.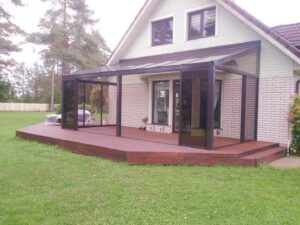 The roof panels can be made of laminated glass, safety glass, acrylic glass, or polycarbonate.
The glass tint, character, and thickness is chosen by the customers' requirements.
The size and shape of the terrace, as well as suitable building material, can be designed by the customer.
Each winter garden is different and the cost depends on the materials used for its construction and the complexity of its design.