Terrace construction
We can build terraces anywhere according to the wishes and needs of the customer and it does not require a building permit. Similarly to residential buildings, the most important aspect of building a terrace is constructing a solid foundation. The appearance, stability and service life of the terrace largely depend on the foundation. All our terraces have a proper foundation, and you can easily, for instance, build a conservatory on them. Besides the location and dimensions, the customer can choose between many other details when building a terrace.
The price of a terrace is affected by the following:
foundation – post foundation, pile foundation, strip foundation, slab foundation,
base battens – the selection includes impregnated pine, WPC, aluminium and bamboo battens,
terrace boards – impregnated pine, thermal wood, hot oil treated boards, larch, WPC, bamboo, etc.,
board fastening method – with screws from top, with hidden screws from the side, with brackets,
for bamboo boards,  seals which can be mounted to the gaps between the boards are also available – these limit the movement of air and add exclusivity (if desired, these can be used inside conservatories).
Under the terraces, we use geotextile to prevent plant proliferation under the terrace and thus prolonging the service life of terraces.
All the terraces built by us are custom-made based on the specific requests of the customer. We also offer our customers complete solutions from the foundation to the roof, i.e., the construction of the terrace and the conservatory from one place to avoid misunderstandings and corrective works.
We offer a 2-year warranty for all the works performed by us.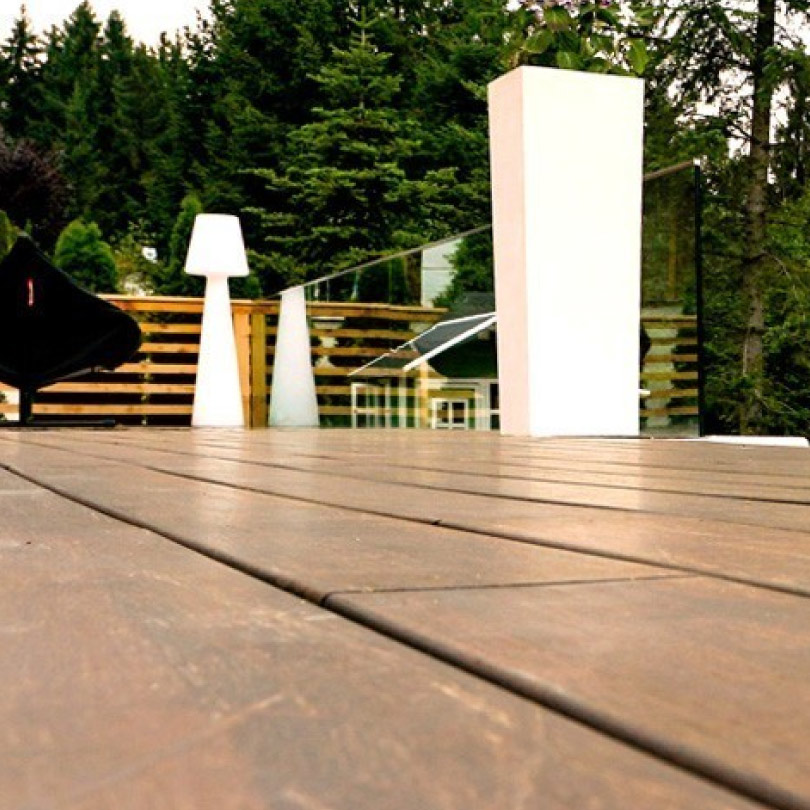 Bamboo terrace
Natural bamboo terrace boards are the most unique terrace material.
Natural bamboo terrace boards are the most unique terrace material. Bamboo boards are mostly used as the floors of the so-called cold conservatories, since special rubber seals can be placed between the bamboo boards, which add individuality to the floor and make the conservatory warmer.
The seal between the boards restricts the air flow. When in conservatories, natural bamboo boards do not need to be treated with oil annually, however, we do recommend it to ensure the long service life and fresh appearance of the boards.
We are the sole importer and distributor of natural bamboo terrace boards in Estonia.
Why choose bamboo terrace boards?
Long service life
Heavier than hardwood
CO2 neutral
Unique appearance
Warmth and natural head radiation
Thermally processed material ensures stability
Very low absorption and shrinkage rate
No large joints
Resistance to UV light and colour stability
Does not fade
Tolerates cigarette ash
Anterior tongue and groove joint
No visible screws in the floorboard, an invisible attachment with side groove